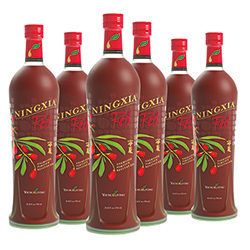 NingXia Red® is a delicious drink that contains whole Ningxia wolfberry puree; a super blend of blueberry, aronia, cherry, pomegranate, and plum juices; natural stevia, grape seed, and pure vanilla extracts; and orange, yuzu, lemon, and tangerine essential oils. NingXia Red provides a whole-body nutrient infusion.
How to Use
Drink 30-60 ml 2 times daily
Ingredients
Proprietary NingXia Red Blend 29g Ningxia Wolfberry Puree (Lycium barbarum), Blueberry Juice Concentrate (Vaccinium corymbosum), Plum Juice Concentrate (Prunus domestica), Cherry Juice Concentrate (Prunus avium), Aronia Juice Concentrate (Aronia melanocarpa), Pomegranate Juice Concentrate (Punica granatum) Proprietary Essential blend 50mg Grape (Vitis vinifera) seed extract, Orange EO (Citrus sinensis), Yuzu EO (Citrus junos), Lemon EO (Citrus limon), Tangerine EO (Citrus reticulata) Other ingredients:Tartaric acid, natural blueberry flavor, pure vanilla extract, malic acid, pectin, sodium benzoate/natural stevia extract.
Supplement Facts:
Serving Size: 1 fl ounce (29.5 ml)
Servings per container: About 25
Calories: 15
Total Carbohydrates: 3 g
Dietary Fibre: Sugars: 2 g
Sodium: 15 mg